Lawn Services Offered by Green Elements in Saint Louis
Friendly
😃 Pop out and say hi if you see us on your lawn.  We will already have a smile on our face because we love what we do!
Fast
We know lawns and landscapes can get out of control quickly!  We always have room to take on new clients.
Affordable
You work hard for your money and our goal is to make those hard-earned dollars go as far as possible.
Brian and the Green Elements team are fantastic. So easy to work with and truly trying to get you the best outcome for your lawn – not just a one-fits-all package solution. Highly recommend!!!
K Auter Sonderegger | Facebook Review
Lawn Fertilizer
We apply fertilizer based on what your lawn actually needs!
How do we know this?  We perform a soil sample to ensure our treatments are providing your turf with the exact nutrients it needs.  We don't guess like the other guys.
Weed Control
Yes.  Every single last weed!
We have an array of professional-grade herbicide products to prevent or treat any weeds in your lawn.  Our focus is on gaining control of the weeds in your lawn without risking damage to the environment, kids, and/or pets.
Irrigation Services
Some of the most common irrigation brands we work on include Hunter, Rain Bird, Irritol, Toro, and Weathermatic.
No matter what your sprinkler system is in need of at this time, we can get it back up and running like normal.
Shrub Care
We care for shrubs in the same manner as we care for lawns and trees.  Our expertly trained staff knows the plants in the St. Louis area and how to care for them.
Pond Care
No matter the issue with your pond, Green Elements has a solution to your problem.  We work on large ponds like those often found in HOA's to your backyard garden pond.
Our Quotes are Free!
You have nothing to lose!
Why?  Because our quotes are free, come with no obligation, and we offer a 100% money-back guarantee.
Core Aerations
2x the number of cores than the other guys! 
We are hardcore lawn guys at Green Elements.  With yearly fall aerations being so important to your lawns overall health, we make sure you get the most out of this service by pulling 2x the number of plugs.
Turf De-Thatching
Sometimes removing the thatch from your lawn's soil surface is needed over and beyond a core aeration service.  We are happy to offer our advice if you are unsure.  When thatch layers become to thick they can hinder water and nutrients from reaching your soil.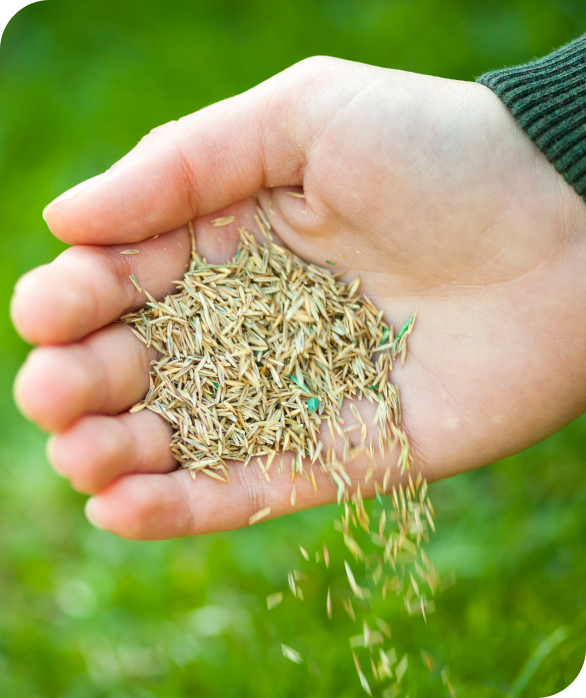 Grass Seed Services
We often sow grass seed after performing a core aeration or de-thatching service, but we also seed new lawns from scratch.
If your lawn is in need of a total makeover, we can get your yard back to a blank slate and re-seed to achieve the desired results.
We are in our second year of using Green Elements and couldn't be happier. Nice, friendly and great at responding to questions and concerns about our yard. We've been told countless times this year how nice our yard looks! Thank you!
Jennifer H | Google Review
Our 100% Satisfaction Guarantee:
Here is our personal promise to you:
"If you experience a problem, or are not satisfied with our lawn care program or any service, we will promptly address the problem with you. We will continue to address any problem until you are 100% satisfied. If we are still not able to satisfy you, we will more than happily cancel your remaining lawn applications for the year. Your satisfaction is our biggest concern."
Lawn Care Programs That Work
We take your business very serious. We understand that there are many companies you can choose from. Green Elements strives to be above all the competition by providing outstanding customer service and a treatment program above the rest.
A Lawn Service on a Mission:
Plant health and soil nutrients are very important to us and we love customers that feel the same. Healthier grass will save you money in the long run by reducing disease and drought stress damage. 
Get ready to make the neighbors jealous! 
We aren't TruGreen…We get our clients' results!
Request Your Lawn Care Quote: