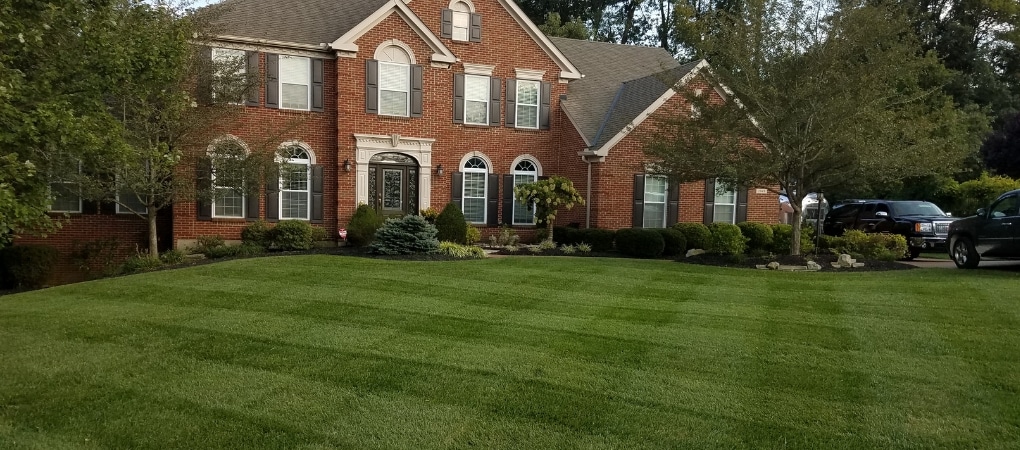 Say Goodbye to Weeds in

Your Lawn
All Grassy and Broadleaf Weeds Controlled
We call it our, 'No Excuses' Policy!
Think of us like TruGreen, but NOT!!!
Yes.  Both Green Elements and TruGreen 'treat lawns.'
This big difference is…we actually care!  It's true!  Have you been looking for a lawn service that actually cares about your lawn as much as you do?
Other differences? 
#1 – We get results for our clients.
#2 – We won't 'bug' the heck out of you.  You know what we mean!
#3 – We are a local, family-owned business.
True Custom Lawn Care Programs
Our custom designed lawn care program is like no other in St. Louis. You need vitamins and nutrients to stay healthy and so does your lawn. We include micro and macro-nutrients and bio stimulant root hormone treatment to boost the health of your lawn.
Green Elements doesn't stop there, we only use high quality poly coated slow release fertilizers to give your lawn a deep green color that last between treatments without that unhealthy fast growth from quick release products. There are hundreds of different products on the market for commercial applicators to choose from, but not everyone meets our standards. We extensively test every product before it is induced to our program. Green Elements is always researching new products and information for the green industry that could make our program even better than it is today.
Lawn Fertilizer
We take the best lawn application techniques and combine them with a program that is designed from University of Missouri recommendations plus the addition of micro-nutrients and organics.
This one-of-a kind custom made program is unique to Green Elements. We don't settle for cheap, basic products. Green Elements only uses superior, top of the line products. 
Weed Control
We love healthy turf, and prefer it to be weed-free! 
Green Elements offers an easy upfront quote that doesn't have any crazy up sells, hidden charges, or multiple treatment packages. For a quote, you can fill out a request form online or give us a call. Quotes can also be given during a scheduled lawn analysis. We will discuss our program and all of the concerns you have with your lawn. We will analyze your lawn and create a plan to a healthier, greener turf.
Turf Management
Communication: During each application our certified technician not only performs beneficial treatments to your lawn but is recording everything from wind speed, time, temperatures, humidity, and the condition of your yard. Our certified technician is trained to look out for insect and disease problems that could pose a threat to your lawn. When the application is complete we will leave a note on your door notifying you what was applied to your lawn with any special instructions. A sign is also placed in your yard and an email is sent to you to notify you that your treatment has been completed.
 Our Lawn Care Program
Professional Lawn Care by Green Elements
Notice we include 4 micronutrient, organics, and liquid organic turf booster treatment. Shop around town. You won't find that in the "other guys" program.  We build a well balanced nutritional diet for your lawn.
– Our liquid organic turf booster is high end product is loaded with natural nitrogen and sulfur, key components in photosynthesis (Improve color). Carbon, that aids in soil nutrients while allowing plant to retain more moisture. Loaded with very high amounts of natural sugars/carbohydrates that feed healthy microbes in your soil!
1st Visit: (Early Spring) Pre-emergent crabgrass preventive, Broadleaf weed control
Slow release liquid fertilizer, Organic soil amendment
2nd Visit: (Spring) Pre-emergent crabgrass preventive, Broadleaf weed control
Slow release liquid fertilizer, liquid organic turf booster
***Micro-nutrient treatment***
3rd Visit: (Summer) Pre-emergent crabgrass preventive treatment if needed, Broadleaf & grassy weed control
Slow release summer blend fertilizer
***Micro-nutrient treatment***
***Liquid organic turf booster***
***Grub Treatment***
4th Visit: (Summer) Broadleaf & grassy weed control
Slow release summer blend fertilizer, organics
*** Micro-nutrient treatment***
*** Grub Treatment***
5th Visit: (Fall) Broadleaf & grassy weed control
Slow release fertilizer or starter fertilizer with over-seeding
***Micronutrient treatment***
6th Visit: (Fall) Winterizer, Special blend of fertilizer to protect your lawn against cold winter months and promote fast spring green-up next year.
Whether your lawn is immaculate or in need of a total lawn renovation, Green Elements has the right treatment program for your lawn. With this program, you should expect to have a beautiful weed free lawn. Our six-step program is proven to transform your yard…GUARANTEED! You can start our program at any time during the year and continue from season to season until you cancel. Service calls are free if needed between visits.
 Ask us about or Warm Season turf program! We have a special program for zoysia and bermuda lawns!
Other Lawn Services
Organic Compost Top Dressing
Specific Weed Control
pH Testing
Soil Analysis & Testing
Over-Seeding
Insect and Pest Control Services
I couldn't be happier! Awesome service from a conscientious business owner. Bran has turned my lawn from a mess to a fairway. Beginning my 3rd year with Green Elements!
Dave Gambino | Facebook Review
Our Quotes are Free!
You have nothing to lose!
Why?  Because our quotes are free, come with no obligation, and we offer a 100% money-back guarantee.
Nothing but great things to say about Brian and Green Elements…. Incredibly professional and knowledgeable, his response time in my questions and getting me a quote was top notch. I reached out to two other companies and no one else compared. Thank you again… Looking forward to working with Brian and Green Elements in the future.
Ryan Roy | Facebook Review
Our 100% Satisfaction Guarantee:
Here is our personal promise to you:
"If you experience a problem, or are not satisfied with our lawn care program or any service, we will promptly address the problem with you. We will continue to address any problem until you are 100% satisfied. If we are still not able to satisfy you, we will more than happily cancel your remaining lawn applications for the year. Your satisfaction is our biggest concern."
Your neighborhood's favorite lawn service.
We take your business very serious. We understand that there are many companies you can choose from. Green Elements strives to be above all the competition by providing outstanding customer service and a treatment program above the rest.
A Lawn Service on a Mission:
Plant health and soil nutrients are very important to us and we love customers that feel the same. Healthier grass will save you money in the long run by reducing disease and drought stress damage. 
Get ready to make the neighbors jealous! 
We aren't TruGreen…We get our clients' results!
Request Your Lawn Care Quote: