Tree and Shrub Care Programs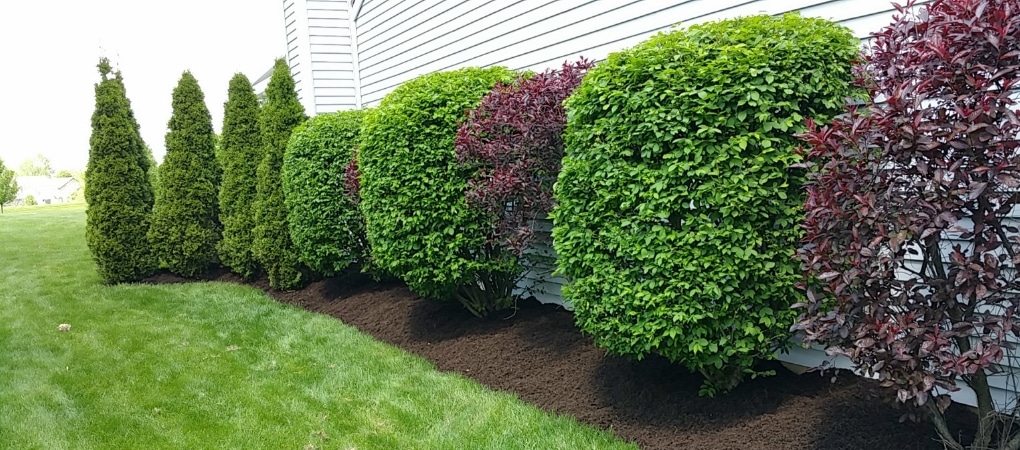 Caring For Your Trees and Shrubs
Too often, homeowners direct all their attention to lawn care and neglect their trees and shrubs. Each season, your landscape grows and changes. The trees and shrubs on your property represent a growing investment, but without the proper plant care and ornamental health program, your investment could wither. Often homeowners are not able to notice problems until it is too late. Having a trained professional keeping an eye on your plants is the best line of defense.
Our Tree & Shrub Programs
Each home's landscape is unique and must be treated that way.
Give us a call to discuss our 6 step program and how your plants can benefit from our treatment program. One of our trained professionals will come to your home for a free consultation and examine your landscape. Next, we design a custom treatment program that fits your needs and provides you with a free quote.
Professional Plant Care
Improper or lack of fertilizer to your trees and shrubs weakens them and makes them very susceptible to disease and insect damage.
Timely fertilization keeps your plants healthy and hardy.
Protecting and caring for your trees and shrubs is a minimal cost compared to removing and replacing your them.
A well-maintained landscape will stay more attractive and hold its value longer.
Benefits of Plant Care
Homeowners don't realize the importance of proper landscape maintenance until it is too late or when their plants prematurely need to be replaced. Turf renovations are somewhat expensive but pail in comparison to replacing your trees and shrubs. Protect your landscaping investment with a high-quality treatment program.
With our full-service program, we can also trim and prune your trees and shrubs.
Ornamental Tree & Shrub Treatment Program
Late Winter – Young/Existing Foliage Protection
As your trees and shrubs come out of winter dormancy, their new buds will begin to form. Treating them now will protect the new growth from any insect problems when the weather warms up.
Spring– Foliage/Root Fertilization With Micro Nutrients 
Micro nutrients will help improve soil and unbinding nutrients so your trees and shrubs are able to use them more efficiently.
Late Spring – Maturing/Existing Foliage Protection – Insect and Disease Control 
We target many insects and diseases such as aphids, web worms, spider mites, scale, fungus.
Summer – Maturing/ Existing Foliage Protection- Insect Control
Reducing insect stress during the hot humid summer is very beneficial. Japanese beetles and other insects can destroy plants very quickly.
Late Summer – Foliage Protection
Follow up foliage insect control to protect your trees and shrubs until the first frost.
Late Fall – Deep Root Fertilizer Injection with Micro-Nutrients
We inject fertilizer and nutrients into the feeding root zone of your trees and shrubs underground. Fertilizing before winter will protect and strengthen your plants during dormancy.
Why Care For Trees and Shrubs?
Curb appeal
Property value
Shade
Privacy
Air purification
Wind Reduction
Protect your investment
Wow! I love getting to work with the owner of the company. Brian's committed to top-notch customer service and I love his passion for EDUCATING people on lawn basics & care. He spotted brown patch in my lawn right away and I'd already had a treatment by a competitor who said nothing. I switched to Green Elements b/c I know I can trust Brian. The plus is they are about 1/3 the cost. Wow!
Lori Yancey | Facebook Review
Our Quotes are Free!
You have nothing to lose!
Why?  Because our quotes are free, come with no obligation, and we offer a 100% money-back guarantee.
INCREDIBLY IMPRESSED with this company!!!! After only 1 lawn treatment our yard looks better than it has in years! Very affordable and it really works, not like a lot of the promises we've received from other companies. Prompt, courteous and excellent customer service. Couldn't be happier
Tracy Ellis | Facebook Review
Our 100% Satisfaction Guarantee:
Here is our personal promise to you:
"If you experience a problem, or are not satisfied with our lawn care program or any service, we will promptly address the problem with you. We will continue to address any problem until you are 100% satisfied. If we are still not able to satisfy you, we will more than happily cancel your remaining lawn applications for the year. Your satisfaction is our biggest concern."
Plant Care and Health Experts
We take your business very serious. We understand that there are many companies you can choose from. Green Elements strives to be above all the competition by providing outstanding customer service and a treatment program above the rest.
A Lawn Service on a Mission:
Plant health and soil nutrients are very important to us and we love customers that feel the same. Healthier grass will save you money in the long run by reducing disease and drought stress damage. 
Get ready to make the neighbors jealous! 
We aren't TruGreen…We get our clients' results!

Request Your Lawn Care Quote: